Well folks, we've made it to the end of another successful year. I photographed so many happy couples this year, saw tons of unique decor ideas, and witnessed countless inspiring stories. Thinking about it gets me excited for 2015, but before we get there I wanted to look back on my favourite moments from 2014. Each wedding I photograph is special in its own way, but these moments below have stuck with me all season. I hope you appreciate them as much as I have!
Michelle & Dave's Blushing Bohemian Wedding
I'm convinced Michelle chose a pink colour palette to match the shades of pink Dave's face went when he saw her coming down the aisle. In fact, I think she incorporated every shade possible. It was in her bridesmaids dresses, her flowers, the vintage tea cups, and every ribbon in sight.
A & A's Handprint Ceremony
A and A had a very intimate ceremony. Less than 20 of their closest friends and family came from all over the world to celebrate with them, and they wanted a special way to memorialize the day. They chose a simple white canvas and had each guest add their handprint.
New Beginnings Motif at Karen & Chris's Wedding
Karen spent a full year planning her wedding. Every inch of her and Chris's farm was decorated with fresh wild flowers, antique accents, and vintage doors. Instead of a guestbook, they had their guests sign one of the doors, which now hangs in their farmhouse.
Leanna & Paul's Hot Sauce Mixing
Rope-tying , tree-planting, sand-pouring… these are a few popular additions couples make to illustrate their new union. But none of them really spoke to Leanna and Paul. They thought hard about a special event they could have at their wedding which would show a bit of their personality. Ultimately they chose to mix their favourite hot sauces. Best part: they got to test it out!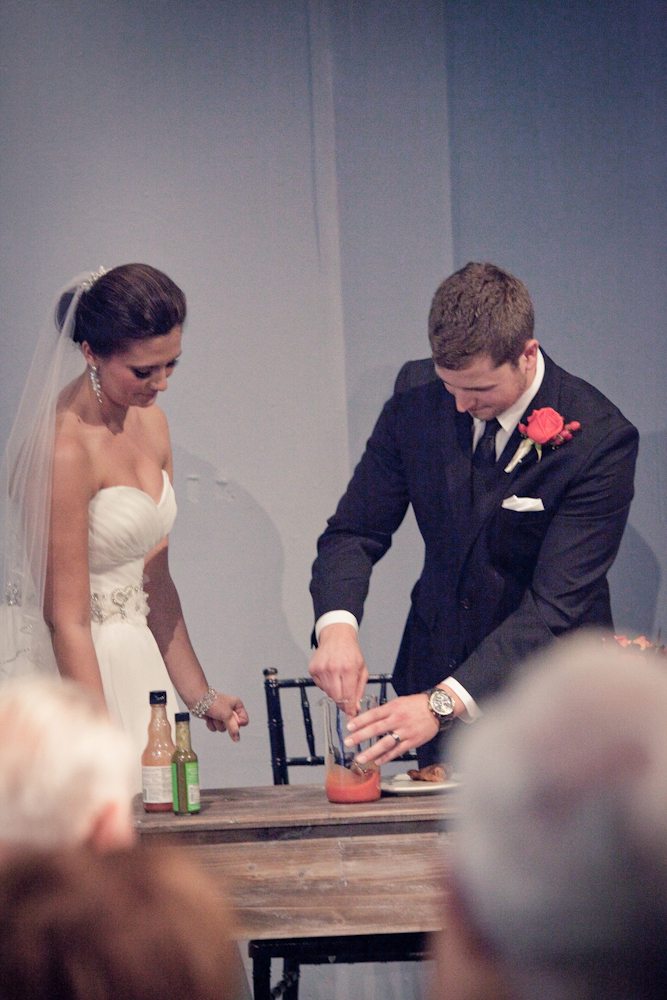 When Clouds Broke at Monica & Brad's Wedding
It rained all morning the day of Monica and Brad's wedding. It was looking like the ceremony would have to be taken inside when Monica said, "Let's just have it outside!" Everyone broke out their umbrellas, the guests sat on towels, and Monica started her descent down the stairs with her father. But an amazing thing happened when they reached the bottom: the rain stopped and the sun came out just as Monica and her parents met Brad at the end of the aisle. If that is not a sign I don't know what is!